Profile
SUNNY STEPHEN: A MUSICAL MAESTRO
---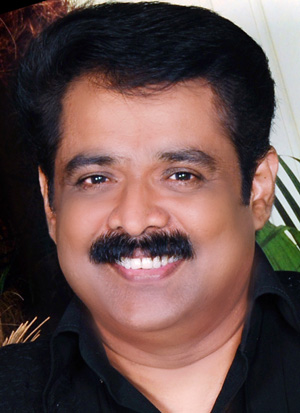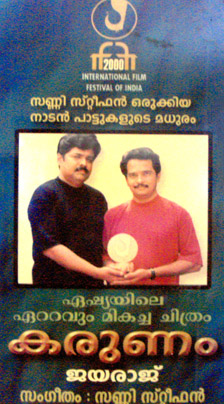 A unique genius who, touching the inner core, has been able to convey his message and display his talent. He clarifies the distinction between delicate and powerful rhythms; he presents his audience with long-lasting musical enjoyment in the midst of today's heart-wrenching rock bands. As a music director, he has survived 33 years and provided music for over 3,600 songs. He occupies a prime stature among his genre. Through his music he has provided us with an experience of God's love by touching the depths of our being. Just as spring brings to life the trees on the hills and makes them blossom from toe to top, Sunny Stephen has been causing ripples of music for over three decades.
The musical world this rare artiste created covers the entire gamut of musical notations and their heart-warming combinations. Through his deep knowledge of both western and Hindustani music, Sunny Stephen has rendered our level of musical appreciation a notch higher and led his listeners to a magical world of artistic enjoyment
Films & Awards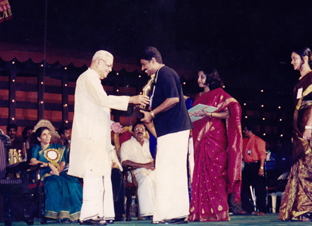 Sunny has scored music for five films. One of them, Karunam by Jayaraj, won state award for the best music direction. It also won the Golden Peacock award at the International Film Festival. The jury made a special mention of its musical merits. Sunny Stephen also came in for 18 awards including the award instituted in honour of John Abraham by the Federation of Film Society of India, Sangeeta Ratna award, film critics award, Nana award and KCBC Special Award, besides other honours and decorations.
In TV serials
Sunny Stephen provided musical score to 27 TV serials including such famous ones as Thapasya, Niramala, Desadana Pakshi, Omana Thinkal Pakshi, etc. Popular all-time hits like Uthradapooviliyil, Mohana Raga Tharangam, Adikkarin Manchal, and Omana Thinkal Pakshi, were products of this gifted artiste's mind. He was chosen for the Film Critics Award for writing 12 lyrics in the telefilm Ee Snehatheerathu. He served as a jury member for the competition program, Voice of the Week, by Asianet.
Innate Talents
Sunny Stephen had early exposure to music at church and was blessed to inherit his mother's musical talents. He spent five years specializing in Carnatic musical training under the renowned K K Antony Master at Kala Bhavan. He anchored himself in western music from the Trinity College of Music, London, and in Hindustani music from Trichur Ramdas. Sunny Stephen proved his devotion to music through his life-long commitment to its influence.
Musical greatness
The musical profusion that Sunny Stephen provided to Malayalam music industry through gazals, festival songs, folk songs, tragic lyrics, spring celebrations, romantic songs, devotional lyrics, and also through musical albums, is indeed astounding. They embrace the Malayali psyche, like a fresh breeze on a spring morning.
The music that forms each line of a song, the ability to make it reflect the soul's yearning, the effort to individualize each song, the heart-stirring music – all these traits make Sunny Stephen, a musical phenomenon that has withstood the corrosion of time.
A Musical Family
Sunny Stephen is the son of Late Stephen and Thankamma of the Chaavara family of Kainakiri. He was born in Singapore on 9th October 1962. His mother's musical talent was inherited by son. He spend 5 years specialising in Karnatic musical training under the renowned K K Antony master at Kalabhavan, Cochin. He anchored himself in western music from the Trinity College of Music, London, and in Hindustani music from Thrissur Ram Das. He proved his devotion to music through his life-long commitment to its influence.
Music has thoroughly infused Sunny Stephen's family. His wife, Lizy, is the daughter of (late) John and Aleykutty of Thayil family of Arakulam. She is a lecturer at SFS Junior College, Ettumanoor. A holder of three postgraduate degrees, Lizy wrote the moral science textbook Rhythm of Life for use in CBSE schools. She has composed over a hundred Christian devotional hymns. Sunny Stephen's daughter Alina had made a name for herself in the world of music by singing such hits as Atmavin Aazhangalil in fifty-odd musical albums and films.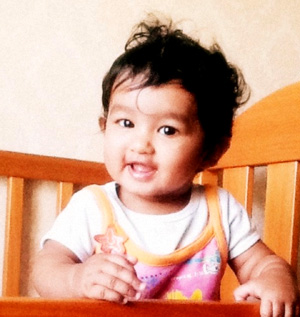 Starting off as a lecturer in the bio-technology department at SB College, Changanassery, Alina acquired her
MPhil degree from the Auckland University of New Zealand. She is currently employed as research officer in Fontera there. Alina's life partner is Antony Payyappally of Ernakulam. He too works as chief accountant in New Zealand. Their baby is 2-year-old Evanna.
Sunny Stephen's son Alen has the musical DNA in him. He sang the superhits Dinkiri Dinkiri Pattalam and Panchara Keniyile of the movies Pattalam and Uthram Nakshathram respectively. He too has lent his voice to several musical albums. A computer engineer by profession, at first Alen worked for Cochin Computers (CCS) of Malayala Manorama; currently he is an employee of Rapid Value at Info Park, Kochi.
Musical career: Milestones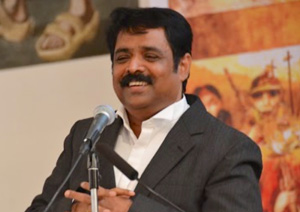 When St John Paul II landed at Kottayam in 1986, Sunny Stephen led the 120-strong choir that sang at the Papal Mass there. While receiving His Holiness, they sang Jananira Paadum Madhumaya Ganam and Viva John Paul Papa. These songs had their music scored by Sunny, who also created other songs for the occasion like Swargathin Naadhan, Bhoomickadhipan, and Ajapaalan mama Karthaavane, etc. Sunny Stephen still cherishes the papal gift of a Rosary and a personal blessing on his head by the Holy Father.
Chain of super hits
Sunny Stephen's devotional creations like Aathmavin Aazhangalil, Pithave Anantha Nanmayakum, Aakulanakaruthe Makane, Tharilam Meyyil, Ithranaal Njan Maranna, Karthavu Bhavanam, Anantha Snehathil, Hrudayam Thurannonnu Parayaan, Thannaalum Naadha, Nin Gehathil, Jeevan Virunnae Nalkum, Chollunna Nimisham, Aayiram Sooryane, Oaro Swasathilum, Yesu Vilikkunnu, etc, keep playing on the lips of believers everywhere. His all-time hit Thirunaama Keerthanam Paaduvanallenkil is a heart-warming prayer song whose repetitive listening only adds to its charm.
Tracing the historical chart...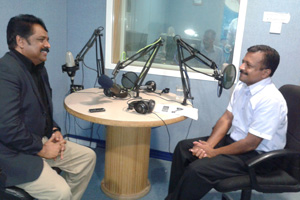 Musical rendition of the entire poetic works of Sree Narayana Guru; the poems written by St Chavara Kuriakose Elias, under the title Aathamanuthaapam; Sankeerthana Maala which is a musical rendition of the 150 Psalms of the Bible; the video presentation of major Biblical events made into songs and portrayed in different locations in India and named as Bible Sambhava Geethangal; the opera Angels of Mercy, presented at the Chicago National Convention by the Nurses Association of America, based on the life and mission of Florence Nightingale; call for world peace through various musical avenues prepared by Sunny Stephen, etc. point to the multiplicity of his personal talents.
Avalanche of talents
Besides his excellence as music director, Sunny Stephen is equally gifted as a speaker, poet, lyricist, writer, director, family counselor, editor, spiritual director, world peace mission director, teacher, organizer, social worker, columnist, motivational speaker, and social activist.
Prophet of expatriates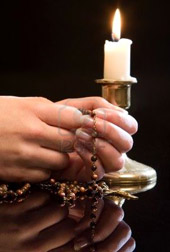 Following Christ's command to 'go out into the whole world and preach the good news to all creatures', Sunny Stephen has been active over the last two decades in preaching the word of God through his Message Mission, which is a Catholic lay apostolate that operates in America, Europe, Africa, Russia and the Arabian Gulf. He had visited 36 countries, conducting retreats. He has been forging ahead in his mission through family renewal retreats, seminars and orientation programmes among the expatriates.
Counselling services
Sunny Stephen is especially talented in taking classes and counselling for couples. He considers it as a grace-filled experience to have been able to reconcile and bring together over 3,000 couples, who were on the verge of divorce due to misunderstandings, quarrels and unforeseen circumstances. Through spiritual counselling, he could bring these parties together at the table of the Lord and establish peace and reconciliation in their families. These services, rendered free of charge, have been available for the last twenty-seven years.
Books
Two of Sunny' Stephen's research publications are One Heart, One World and Angels of Mercy. Vasudhayode, Aadima Sanchayam, and Priye Ninakkaye are his poetic anthologies. Other books getting ready for publication include Ten Commandments for Family life, The Power of Love and The Magical Powers of Music & Yoga.
'The World Peace Mission'n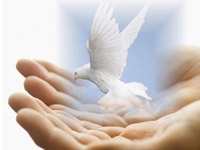 Founded by Sunny Stephen, The World Peace Mission has been endeavouring to extend the message of peace in colleges and schools. Efforts are on in African countries to spread awareness about Aids and to conscientize people against this malady.
"Every religious scripture contains the same message of love, hope and compassion. Some vested interests use them for selfish gain and to foster terrorism. Neither environment nor society, nor party, nor revolution, nor religion, nor caste should create blockades for man's peace. What the World Peace Mission aims at is through a realization of this reality, prepare tomorrow's generation through grace-filled messages and studies to make an effort to prepare people to serve as messengers of peace," Sunny Stephen explained in this context. The force of determination could be noticed on his face as he delineated the Mission's programmes.
On the road of humanitarian works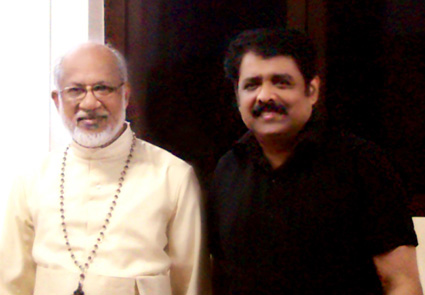 This great humanitarian has devoted his entire life and all his artistic endeavours and what accrues from them to the development of the downtrodden, the marginalized and the poor. One may not find his presence in huge gatherings to celebrate the superficial joys of life through music and dance. He sets an example by devoting all his earnings for the promotion of the welfare of the poor, and thus giving evidence of the spirituality that underlies and informs all his endeavours.
This messenger of love spends whatever income accrues through his musical direction as well as the sale of his musical albums to provide education to thousands of poor kids, and thereby bear witness to the presence of God in the lives of people.
Like is a feeling; love is character
Wealth, talents, leisure breaks - nothing belongs to Sunny Stephen. What energizes this lover of humanity is the many messages of peace that he conveys like a solitary sea gull; the solace he provides to people who seek his company for comfort and consolation; the numerous phone calls he receives on a daily basis requesting prayer support as well as counseling; and the voice of the voiceless that keeps knocking at his door. These are sufficient to keep him on tenterhooks every day of his life.
Showers of blessing...
Here, life itself is turning out to be a prayerful cradlesong. 'Work is worship' is being revealed in Sunny's life. Sunny Stephen, who has been leading a life of no similarities, is not merely an individual; but indeed a musical current of compassion and charitable disposition.